Frank Stella
Other artworks available, please inquire.
Frank Stella (American)
Born 1936, Andover, MA
Lives and works in New York, NY
In 1959, Frank Stella gained early, immediate recognition with his series of coolly impersonal black striped paintings that turned the gestural brushwork and existential angst of Abstract Expressionism on its head. Focusing on the formal elements of art-making, Stella went on to create increasingly complicated work that seemed to follow a natural progression of dynamism, tactility, and scale: first, by expanding his initial monochrome palette to bright colors, and, later, moving painting into the third dimension through the incorporation of other, non-painterly elements onto the canvas. He ultimately went on to create large-scale freestanding sculptures, architectural structures, and the most complex work ever realized in the medium of printmaking. Stella's virtually relentless experimentation has made him a key figure in American modernism.
Frank Stella known for his experimental printmaking . Though he came to printmaking somewhat reluctantly, he eventually discovered its potential and has continued with the form. He began with lithography, making prints that expand upon formal concerns he explored in his painting practice such as scale, surface, and texture. By continuing to incorporate additional print processes into his practice, Stella has redefined the traditional print with his highly experimental endeavors.
Frank Stella has created a significant body of abstract art comprised of paintings, reliefs, sculptures, drawings, and prints. His ground-breaking early works were included in seminal exhibitions such as Three Young Americans at the Allen Memorial Museum and Sixteen Americans at the Museum of Modern Art, New York, both in 1959. His first solo exhibition was at the seminal Leo Castelli Gallery, New York in 1960. In 1970, at the age of 34, he was the youngest artist ever to receive a retrospective at MoMA, and remains the only living American artist to be honored with two retrospectives there, his second being in 1987.
Stella's work is represented in major museums and private collections around the world. In 2016 and 2017 alone he has been honored with retrospective exhibitions at the de Young Museum, San Francisco, CA, the Whitney Museum of American Art, New York, NY, and the Tate Modern, London, England.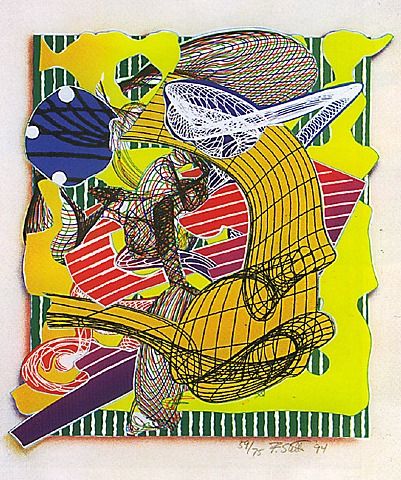 Figlefia 1994
Twenty-five color lithograph, etching, aquatint, relief on white TGL handmade paper 24 x 21 inches. Edition 75 plus proofs.
Limanora 1994
Thirty-six color lithograph, etching, aquatint, relief on white TGL handmade paper 24 x 21 inches. Edition 75 plus proofs.
Feneralia
Ninety-seven color screenprint, lithograph, etching, aquatint, relief, collagraph on white TGL handmade paper 46 x 42 inches, Edition 65 plus proofs.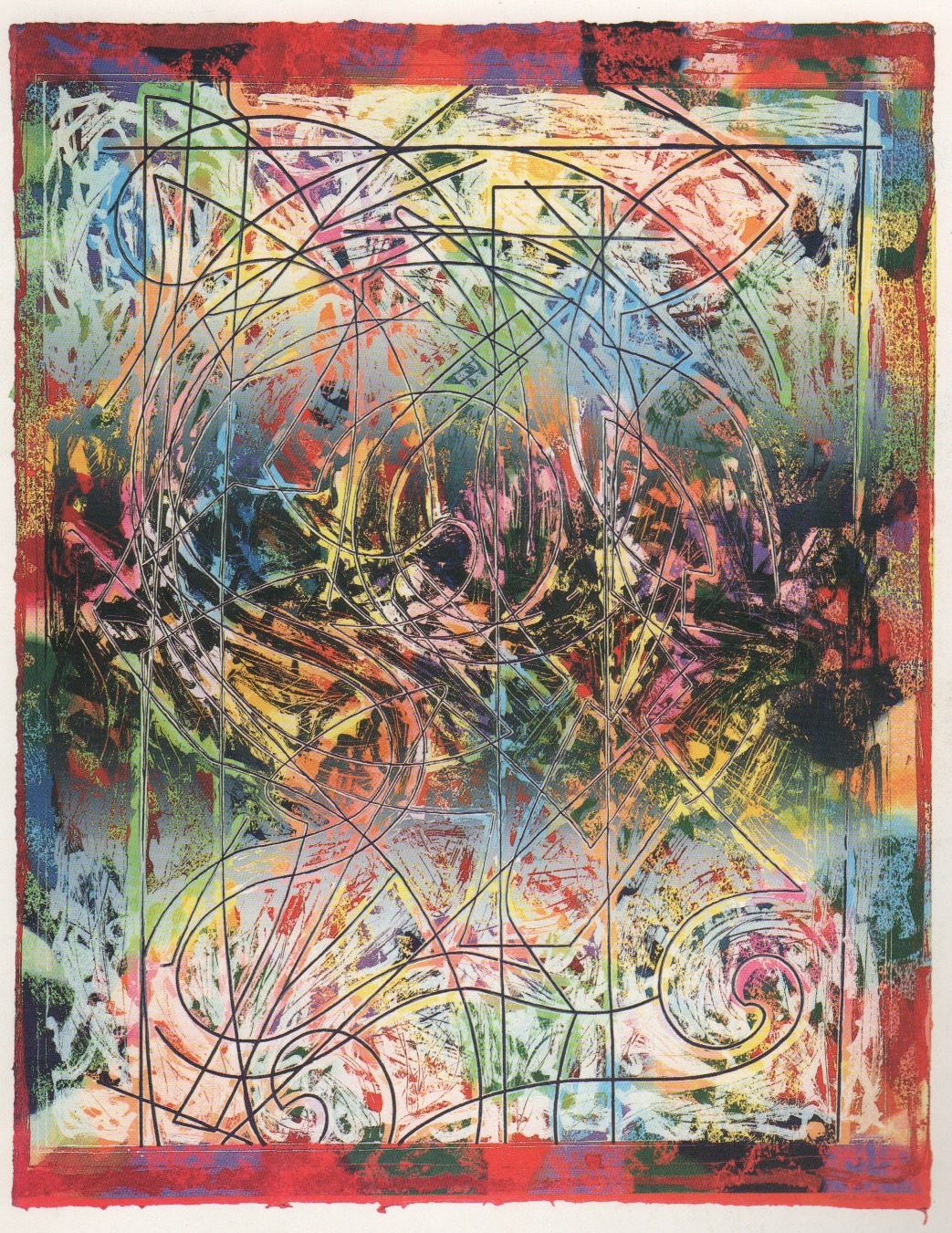 Talladega Three II, 1982
Relief on white TGL handmade, hand-colored paper, 66 x 52 inches
Estoril Five I, 1982
Relief, woodcut on white TGL handmade, hand-colored paper, 66 x 52 inches
Juam 1997
Relief, etching, aquatint, lithograph, screenprint, woodcut, engraving white TGL, handmade, hand-colored paper, 79.5 x 61.5 inches, Edition of 40
Referendum '70, 1970
Screenprint in colors, on Special Arjomari paper, with full margins, 39 .5 × 39.5 in inches, Edition of 200
Pergusa Three, State I, from Circuits, 1983
66.5 X 51.5 inches, relief-printed woodcut and etching in colors, ed. of 10, price on request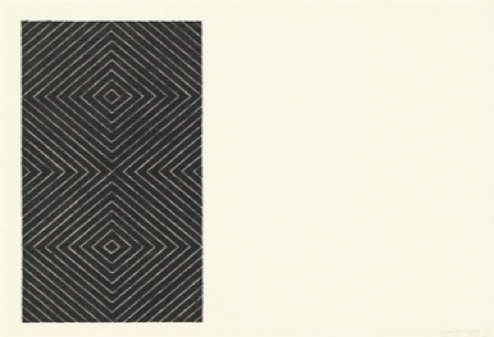 Tuxedo Park 1967
Lithograph on Barcham Green paper, 15 x 22 inches, signature signed and dated in pencil, lower right: F. Stella '67,
edition 100