Jean-Édouard Vuillard
Jean-Édouard Vuillard (French)
Born 1868 in Cuiseaux, France — Died 1940 in La Baule, France
Lived and worked in Paris, France
Jean-Édouard Vuillard is known for prints and paintings that portray his preference for the painting of interior and domestic scenes, and often referred to as an intimist. He executed some of these works in small scale, while others were conceived on a much larger scale made for the interiors of the people who commissioned the work.
Sometimes identified as a Symbolist painter and part of the fin-de-siècle escape into the aesthetic, Vuillard employed flat patterns into which his figures were embedded as his means to express both emotion and ideas. This kind of abstract painting evolved to communicate ideas not expressible through traditional painterly means. Color and shape could represent experiences that are difficult to express in words.
Jean-Édouard Vuillard's color lithographic prints made a significant contribution to laying a foundation for a more modern imagery. Japanese goods were first imported to 19th-century Paris wrapped in woodblock prints. Their dissemination among French artists had a profound effect on Vuillard as well. They taught him how to rethink color and form, resulting in delicious color choices. His interiors compress people and objects, and foreshorten distances and employ busy wallpaper patterns to create a restless energy teeming in them.
Jean-Édouard Vuillard prints, drawings and paintings are coveted among art museums and individual collectors internationally.
Personnage au chapeau, c. 1920
Pencil on paper, 4.25 x 5.5 inches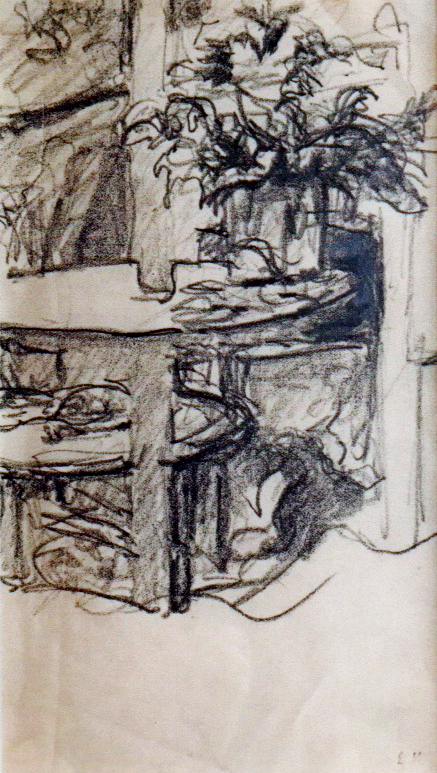 Vase de fleurs sur une table, c. 1915
Pencil on paper, 8 x 4.5 inches