Andy Warhol
Additional artworks available, please inquire.
Andy Warhol (American)
Born 1928, Pittsburgh, PA — Died 1987, New York, NY
Lived and worked in New York, NY
Andy Warhol achieved almost worldwide household recognition as the iconic symbol of the American Pop Art movement that emerged in the 1960's. Pop artists maintained a commonality in their choice of popular culture imagery as their fundamental subject.
Already an award winning commercial artist in New York, Warhol in the late 1950s began devoting more attention to painting, and in 1961, he debuted the concept of pop art—paintings whose subjects focused on mass-produced commercial goods. In 1962, he exhibited the now-iconic paintings of Campbell's soup cans. These small canvas works of everyday consumer products created a major stir in the art world, bringing both Warhol and Pop art into the national spotlight for the first time.
Early Pop progenitor, British artist Richard Hamilton described pop art as popular, transient, expendable, low cost, mass-produced, young, witty, sexy, gimmicky, glamorous, big business . As Warhol himself put it, Once you 'got' pop, you could never see a sign the same way again. And once you thought pop, you could never see America the same way again.
Andy Warhol is known, too, for his painted celebrity portraits in vivid and garish colors of famous celebrity icons including Marilyn Monroe, Elizabeth Taylor, Mick Jagger, Elvis Presley and China's Mao Zedong. As these portraits gained fame and notoriety, Warhol began to receive hundreds of commissions for portraits from socialites and celebrities. He then produced silkscreen editions of those images as a way of gaining wider distribution for them.
Famous for his 1967 Time magazine prediction of the day when everyone will be famous for 15 minutes, Warhol's life and work simultaneously satirized and celebrated materiality and celebrity. On the one hand, his paintings of distorted brand images and celebrity faces could be read as a critique of what he viewed as a culture obsessed with money and celebrity. On the other hand, Warhol's focus on consumer goods and pop-culture icons, as well as his own taste for money and fame, suggest a life in celebration of the very aspects of American culture that his work criticized.
Andy Warhol artworks are must haves for every comprehensive museum and private art collection worldwide.
Andy Warhol is one of our most popular artists and our Inventory changes almost daily. Pieces listed here are just a few that we have currently. Prices are available on request.
Individual signed and numbered prints from series such as:
Marilyn Monroe
Mick Jagger
Mao
Campbell's Soup Cans
Ads
Endangered Species
Miscellaneous other prints available. Please inquire.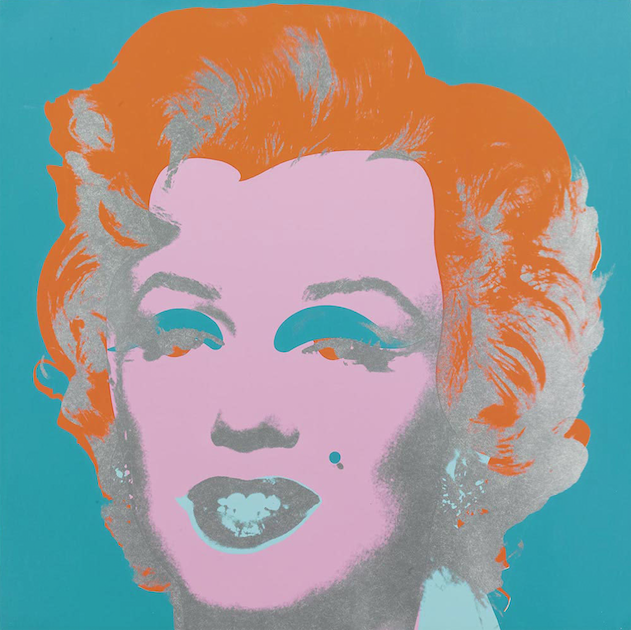 Marilyn Monroe #29, 1967
Screenprint on museum board, 36 x 36 inches. Signed and numbered by the artist, Edition of 250.
Kiku (FS II.307), 1983
Screenprint on Rives BFK paper, 19.675 x 26 inches, Edition of 300. From a portfolio of three screenprints.
The Scream (after Munch), 1984
Unique screenprint work on paper, 40 x 32 inches. Price upon request.
The Scream (after Munch), 1984
Unique screenprint work on paper, 40 x 32 inches. Price upon request.
Sunset, 1972
Screenprint in colors, on smooth wove paper, 33.875 x 33.875 inches, signed and dated in pencil. In excellent condition, from the total edition of 632 unique impressions. Published by David Whitney, New York, with the Hotel Marquette Prints inkstamp on the reverse,
Please inquire about available prints.
Marilyn Suite
1) Original signed and numbered prints available individually or as a complete set of 10
2) Original "Sunday B. Morning" stamped prints available individually or as a complete set of 10
3) New "Sunday B. Morning" 1980's version stamped prints available individually or as a complete set of 10
Campbell's Soup Can
1) Original signed and numbered prints available individually or as a complete set of 10
2) Original "Sunday B. Morning" stamped prints available individually or as a complete set of 10
3) New "Sunday B. Morning" 1980's version stamped prints available individually or as a complete set of 10
Flowers
1) Original signed and numbered prints available individually or as a complete set of 10
2) Original "Sunday B. Morning" stamped prints available individually or as a complete set of 10
3) New "Sunday B. Morning" 1980's version stamped prints available individually or as a complete set of 10